Date
Mar 01 2023
Expired!
Wasatch County Issues Conference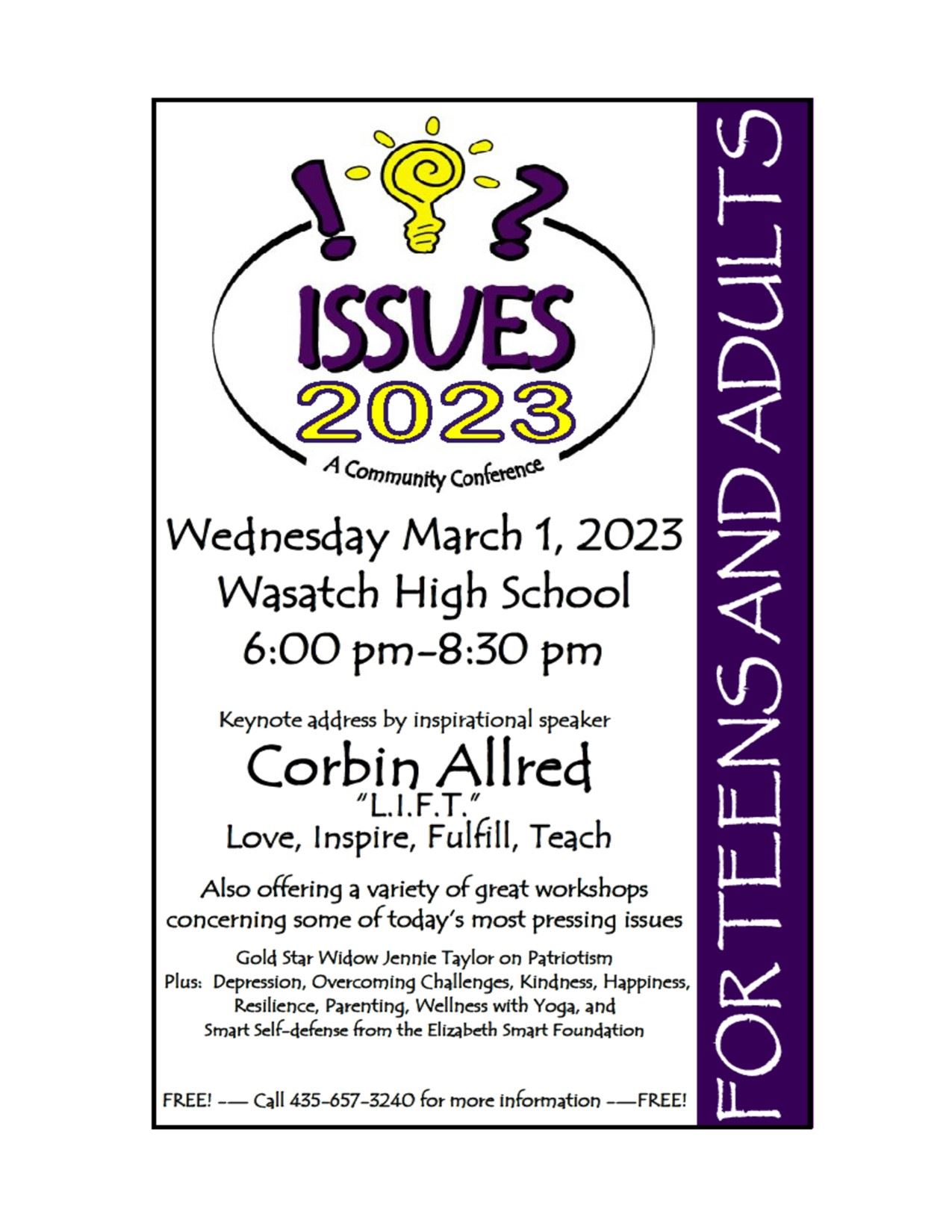 Corbin Allred Headlines the Issues Community Conference
The 33rd annual Issues Community Conference will be held Wednesday, March 1, 2023, at Wasatch High School from 6:00-8:30 pm. The conference is free of charge for all those who attend.
This year's keynote speaker is Corbin Allred. Corbin has enjoyed a successful acting career in film and television. Some of his most notable performances include starring roles in the critically acclaimed films "Saints and Soldiers", "The Saratov Approach," "Out of Liberty," and the A.B.C. comedy series "Teen Angel."Corbin's motto is L.I.F.T.–love, inspire, fulfill, teach. His presentation addresses the mental and emotional health epidemic threatening the minds, hearts, and spirits of many young people worldwide. He believes that sharing experiences can help us combat the effects that social media addiction, bullying, anxiety, depression, and suicidal ideation have on today's youth.
Following the keynote speaker, a variety of captivating workshops will be offered. Gold Star widow Jennie Taylor, who lost her husband, Major Brent Taylor, in Afghanistan, is one of the headlining workshop speakers. Mrs. Taylor will talk about how her experience has increased her love for her country and the vital role we can play in our communities to make us feel part of something bigger than ourselves. Other workshops include; improving happiness, conquering challenges, the power of kindness, managing anxiety, self-defense, parenting, yoga, and more. For a complete list of workshop titles and descriptions, go to www.wasatchparksandrec.com.
Wasatch County Parks & Recreation, Wasatch County Health Department, The Wasatch School District, and Wasatch Behavioral Health present the Issues Community Conference. Doors open at 5:30 pm, the keynote presentation begins at 6:00 and is followed by two 40-minute breakout workshops. Three hours of attendance credit will be available for high school students, plus another three hours of credit if they bring a parent with them. For more information, please go to wasatchparksandrec.com or call 435-657-3240. Conference attendees have committed to making significant changes in their lives based on the presentations they've heard. Learn what you can do for yourself and your community at the free 2023 Issues conference.